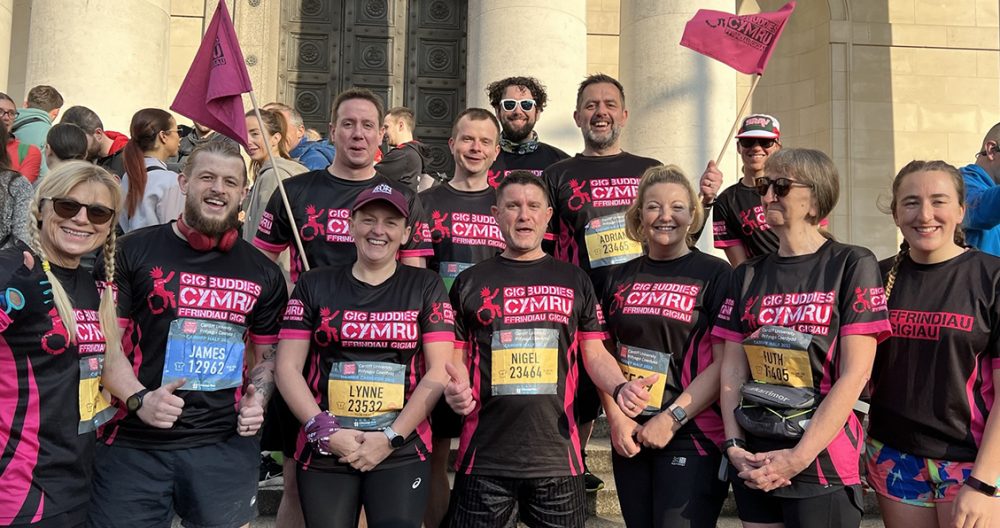 The Wizz Air Cardiff Half Marathon 2022 will take place on Sunday, 2 October 2022.
We are looking for runners and wheelchair racers of all levels to join Team Gig Buddies to support our befriending scheme.
We have 25 FREE places for anyone who wants to join Team Gig Buddies, run the Wiz Air Cardiff Half Marathon and can commit to raising money to support this project.
A half marathon is a great distance to run, whether it's your personal goal or you're working up to running a full marathon. 
Sign up for your place here.
About Gig Buddies
Gig Buddies Cymru matches people with a learning disability with someone without a learning disability who shares the same interests, so they can go to gigs and events together.
Gig Buddy partnerships get together to have fun at loads of different events and activities like wrestling matches, concerts, football matches and more.  During lockdown, our buddies have been meeting up online and have built up an inventive spread of online activities to take part in.
Gig Buddies Cymru currently works in Anglesey, Bridgend, Cardiff, Conwy, Denbighshire, Flintshire, Gwynedd, Merthyr Tydfil, Rhondda Cynon Taf, Vale of Glamorgan, and Wrexham.
In Wales, Gig Buddies Cymru is run by Learning Disability Wales. Other Gig Buddies projects are running in England, Scotland, Northern Ireland, and Australia.
Why we need your support
Our project is making a real difference for people with a learning disability. Having a Gig Buddy means that people have a new friend to be with. Often people with a learning disability name paid staff as their friend and don't have the chance to have the social life they want. Having a Gig Buddy helps reduce people's loneliness and social isolation, can improve their health and well being, their confidence and having a social life and some serious fun!
Our project cannot keep up with the demand with the current resources we have. We currently have a waiting list of people wanting to join the project in South and North Wales. The word is spreading!
Your sponsorship money will help us increase the number of people who can join the project and find volunteers to match with people to be a Gig Buddy pair.
Find out what Gig Buddies means to Tom and his Gig Buddy Sam.
Being part of Team Gig Buddies
By being part of Team Gig Buddies you will be joining a group of runners with the same goal of running for a good cause but will also get
a personalised running vest so you will be seen on the day as a member of Team Gig Buddies

a fundraising pack and regular contact to help keep you on track
a team along the course to cheer you on race day
We are asking that everyone who signs up for a free place raise at least £250 to support Gig Buddies Cymru's work.
Register for your free place below. We will then be in touch to get you officially registered for the run.