We are really excited to have 16 runners fundraising for our Gig Buddies project at this year's Cardiff Half Marathon. Here's how you can support Team Gig Buddies, and in turn help to grow our project so we can support more adults with a learning disability with a Gig Buddy across Wales.
The Cardiff Half Marathon is one of the largest road races in the United Kingdom, with around 25,000 runners taking to the Welsh capital's iconic 13.1 mile course on Sunday 6 October. Many will be raising money for charity and we are extremely thankful to our runners – Charley, Sydney, Jimmy, Richard, Madison, Rhydian, Antony, Zack, Alan, Jake, Salvatore, Neil, Rebecca, Kai, Lyndsey, and Zhanar – whose fundraising will have a huge impact on the work that we are doing with Gig Buddies in Wales.
Support our runners
With just over a week to go before Wales' largest road race we are already a third of the way to our total fundraising goal of £4,800!
Every penny that is raised will go to our Gig Buddies project, and will not only help us to match and support more Gig Buddies in the areas we are currently operating in (Cardiff, Bridgend, the Vale of Glamorgan; and from the new year, Rhondda Cynon Taf), it will also help with our plans to expand Gig Buddies across Wales.
Here's how you can support our runners in Team Gig Buddies.
Donate to our runners' fundraising pages!
The best way to support our runners is through a donation to one of their fundraising pages below.
Cardiff Half Marathon – Sunday 6 October 2019
We are extremely grateful to all our runners with #TeamGigBuddies in this year's Cardiff Half:
Amsterdam Half Marathon – Sunday 20 October 2019
We are also extremely grateful that one of our Gig Buddy volunteers, Mel Beard, is fundraising and running for #TeamGigBuddies in this year's Amsterdam Half Marathon. You can support Mel by donating to her fundraising page below.
Cheer on our runners on the day!
You can cheer on our runners along the route of the race, or at one of our Gig Buddy Cheering Stations. We will be announcing the location of our Cheering Stations next week.
The Cardiff Half Marathon will start from 10am on Sunday 6 October, with the elite wheelchair race beginning at 9:50am.
The race will start in front of Cardiff Castle, on Castle Street, and then follow a route around Cardiff through Riverside, Grangetown, Penarth Marina, Cardiff Bay, Butetown, Roath, Lakeside, and Cathays, before a grandstand finish at the Civic Centre. All the races start on Castle Street, in the city centre. You can find a detailed map of the route at the Cardiff Half Marathon website.
Cheer on our runners through social media!
You can support our runners on social media, with the #TeamGigBuddies and #TîmFfrindiauGigiau hashtags. You can share this article, give our runners tips, promote our Gig Buddies Facebook, Twitter and website pages, or just give us an hugely-welcome 'good luck/pob lwc' and a thumbs-up on the day of the race!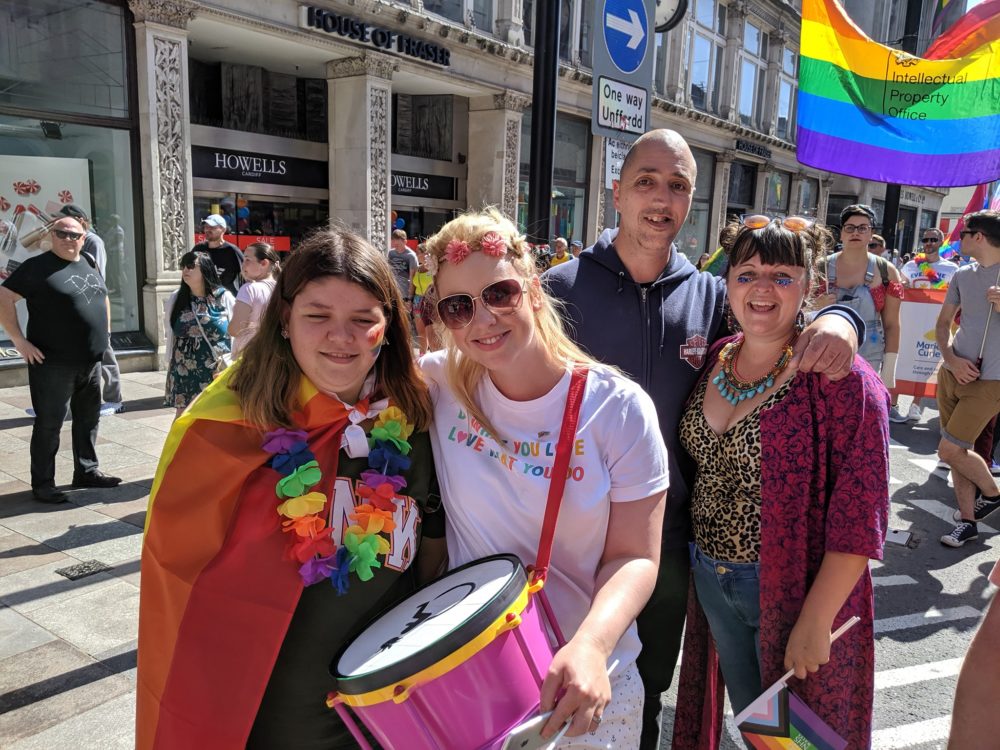 Some of Gig Buddies at this year's Pride Cymru Parade in Cardiff