Imagine if you had to leave every night out at 9pm?
This is reality for many people with learning disabilities. Volunteer as a Gig Buddy and you can help to change this.
As a Gig Buddy you can use your love of music, the arts, sport, culture and fun to help somebody else in your community to socialise and enjoy new experiences.
People with a learning disability often need support to help them live the life they want to live. But what do you do when your support isn't available – especially past 9pm – or doesn't share the same interests as you?
At Gig Buddies we match people with a learning disability and/or autism with volunteers who share the same interests – so they can enjoy social activities together.
A few of your hours every month could change someone's life.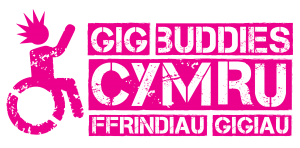 What do I get if I become a Gig Buddy volunteer?
We give you free training and ongoing advice and support to help you be a great Gig Buddy. Most importantly you will get a new friend!
How do I apply to become a Gig Buddy?
If you live in, or close to, one of the areas we cover (*), then all you need to do is complete and return this application form (Word doc). One of our project coordinators will then get in touch about arranging an informal interview. (*See the top of this page for the areas that we cover)
For more information please get in touch with the Gig Buddies Cymru team. Email gigbuddies@ldw.org.uk, or phone 029 2068 1160.