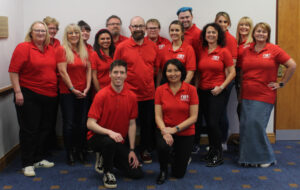 Learning Disability Wales is committed to developing and supporting a diverse staff team. Equality and diversity are extremely important to us and our team values reflect this. This page is about what new employees can expect when they join our team.
As an equal opportunities employer, we are keen to hear from you if you have experienced discrimination when applying for jobs.
Current vacancies
We currently have no vacancies.
Follow us on LinkedIn, Facebook and Twitter or check our News pages to find out about future opportunities.
What it's like to work for Learning Disability Wales
We regularly ask our team for their views on working for Learning Disability Wales.
"I feel proud to be working for an organisation with such strong values that is making a positive difference to people's lives. I love working with such a supportive, talented and passionate group of people."
"I like working for Learning Disability Wales because we have a team here that treats each other with support and kindness. I have also found Learning Disability Wales a really great employer when it comes to concrete support about things like taking care of my mental health, reasonable adjustments and generally creating a working environment that fits individual worker's needs."
"Learning Disability Wales values its employees, and I am proud to be an integral part of ensuring our culture, policies and working practice reflect that we continue to work towards being a fair, equal and inclusive employer."
"I would definitely say the supportive and passionate team comes across really strongly. And the sense that everyone is committed to doing what they're doing and genuinely working towards making a difference."
"Learning Disability Wales is an organisation with an excellent work culture and a welcoming and supportive team."
Find out more about our team here.
Our culture and wellbeing
Our team is passionate, committed, inclusive and supportive. This is reflected in our team values and the way we work together and with others.  
We have family-friendly policies and flexible working practices including hybrid working where you can split your time between working at our office and your home.
We have a welcoming and inclusive working environment, where we are sensitive to cultural differences, neurodiversity, disability, gender identity and other protected characteristics.
We offer paid dependants' leave, time off for medical appointments and free eye health check for display screen users.
We encourage and promote health and wellbeing at work.
We provide an Employee Assistance Programme that offers free support, advice and counselling to you and your family.
Our office
We have a modern, well-equipped and spacious office close to shops and other local amenities, with excellent public transport links.
There is ramped access to our office. The ground floor includes our reception, meeting room, work space, refreshments and  a toilet. Some people may require support with heavy fire doors.
There are 18 steps to the second floor where more workspace, a kitchen and a toilet is located.
We offer free parking, bicycle racks, personal hygiene products, tea/coffee and emergency lunches.
Support and development
Our team are valued and supported in their work and receive regular support and direction so they can do their job well and develop their skills.
We provide a comprehensive induction programme to help new employees settle into their new roles.
We offer regular team meetings and hold team days each year for everyone to get together, share information and have fun.
Pay
We carry out a pay review every 3 years to make sure our salaries are competitive with similar third sector organisations in Wales.
We have our own salary scale, and all grades receive 2 annual increments.
Annual leave
We offer a generous annual leave entitlement of 25 days rising by 1 day for each year worked up to 28 days plus statutory bank holidays. In support of our commitment to be a culturally inclusive employer, religious bank holidays can be exchanged to celebrate any other cultural/religious festivities. 
Pension
We will contribute 7.5% of your salary as long as you contribute a minimum of 0.5% (or more if you wish).