Llais Summer 2017
What was life like for the residents with a learning disability and staff at the 6 old long stay hospitals in Wales? The Hidden now Heard project set about capturing stories, images and objects to ensure history is told and not forgotten. Paul Hunt, Mencap Cymru shares with readers what was discovered including some of the barriers to unearthing lives past.
The Hidden Now Heard three year project was funded by the Heritage Lottery Fund (HLF) and Welsh Government to capture the history of six of Wales' long stay hospitals for people with a learning disability. The HLF have supported projects similar to this on a small and large scale across the UK. Ours was the first Wales-wide project of its kind and as such we were able to gather a wide range of views and experiences.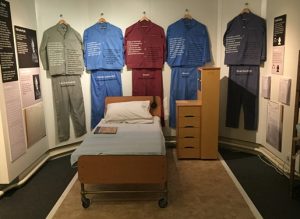 Potted achievements
The project ended in June. 97 oral histories were collected from 85 individuals including staff. It also delivered 9 temporary museum exhibitions held in Cardiff, Bangor, Wrexham, Swansea, Aberystwyth, Newport, Cwmbran, Carmarthen and Llanfrechfa. St Fagans National Museum of history will serve as an archive for the oral histories.
Oral histories
The oral histories may not be reflective of the history of the hospitals, but rather they are reflective of people's attitudes towards the hospitals today. We also heard positive stories from former patients of friendships, of holidays, of positive risks taken by staff to increase patient independence, holidays, day trips and intimate relationships. In meeting former patients, the project has uncovered people who feel isolated socially in their communities; longing for the friendships they once had and freedom to roam large open spaces.
Getting stories: who decides?
The process of collecting the oral histories also told us a lot about people's lives in the here and now. We only interviewed half of the people with a learning disability we made contact with and out of 97 stories only 19 were from people with a learning disability.
One of the most frequent phrases we heard when asking if former patients wanted to take part was "mental capacity", with many former patients now clearly lacking the capacity to decide whether to take part. We did not ever pursue a best interest decision in these cases, but on reflection, with our experience in some cases we should have. We felt many had capacity but the decision was taken out of their hands. One service manager of a small, independent home said "obviously, he can't consent, he has a learning disability" We were able to navigate this with support.
In another example a community team requested a full mental capacity assessment and psychological evaluation completed for fifteen former patients before allowing them to find out about the project. They did not assume capacity. We often asked ourselves "is this proportionate?
It is likely that these experiences reflected what is often called 'benign paternalism' this means that the intention is good but the impact is restrictive. This reflects a view amongst some services and groups that people with a learning disability shouldn't ever experience sadness. As with life in general, patients had good times and bad times.
There are many more stories that may never be told because some former patients have been denied the opportunity to decide. The sister of one patient cancelled her brother's interview. The brother had capacity, had consented and his staff were ready to support him to tell the story. But his sister did not want the family associated with Hensol Castle Hospital. We need to have compassion for everyone involved in projects like this, and we can understand the sister's point of view, but does this take into account her brother's wishes? Is this fair?
Emotional
For the majority of participants the project was a positive experience. However two people needed emotional support in the weeks after their interview. One man who, despite the distressing emotions, was happy he took part. His staff also felt happy he had talked about a history they had never heard, despite the challenges it posed them. The second patient had been stopped from ever talking about his time in hospital by his staff who used distraction techniques.  When he was finally able to talk about his experiences it caused significant distress, exposing the need to support people with a learning disability to share experiences.
Who owns our history? Who is responsible for it when we are no longer here?
We have been given thousands of historical images of patients some living, some who have died. According to data protection law we can share images of living people with their permission, or if we had made reasonable attempts to find them. For deceased patients, we decided to share images providing people had dignity and remove them if family asked us to.
For our exhibitions about Hensol Castle, Ely and Llanfrechfa Grange this was done without issue, with over 25,000 people seeing images at our exhibitions with health boards being fully aware and supportive of our work.
Our Bryn y Neuadd exhibition however was subject to a data protection complaint by Betsi Cadwaladr University Health Board. We had been given over 2,000 images of patients collected by staff at the health board. They felt we had breached data protection by sharing images, the Information Commissioner's Office found that there was no breach. The health board then instead felt that the images were part of a person's medical record and subject to rules governing patient confidentiality. They felt that an image of a person with a learning disability conveys a medical condition or reveals that they were receiving medical treatment. Many of the patients were not receiving treatment. We were required to to return the images. The collection was likely the largest of its kind in the UK and it has now been hidden from sight. Given the function of the project to make visible this history it is unfortunate that there is still a desire to keep some aspects of the history invisible. The effect this rule has is to deny that this history ever took place, it feels as though many in society would rather we not recognize this period in our history.
Today we are in a position where we can share this portrait of Joe Bevan by Peter Jones that now hangs in the National Library, and we can also share his obituary which was published in a newspaper, stating that Bryn y Neuadd was his place of residence we cannot share a picture of him because it apparently reveals a medical condition. We take the view that an image of Joe simply reveals that he existed.
Public interest
We have also had nine requests from people who say they have a relative who lived in one of the six long stay hospitals. Some only recently learned of this relative, others knew about them but lost touch. Today it would be almost impossible for them to find out more about their relative, having to wait over 100 years for records to become available. We want to campaign to ensure that anyone who has a lost relative who lived in a long stay hospital has the right to find out what life was like for them by accessing records and to ensure historical images of long stay care can be seen in the public interest, to ensure that we do not forget.
Exhibitions
Our exhibitions exposed hidden histories to a wider audience. The exhibits were interactive; they included a bed that played oral history, a toilet that played interviews when flushed and a teapot that told visitors how tea was prepared. The use of audio embedded in objects was an attempt to make the oral histories more inclusive and accessible.
The exhibitions asked the public to place themselves not only in the shoes of the patients but also the staff.  St Fagan's will serve as an archive for the Hidden Now Heard oral histories and will soon be available for people to listen to. They have provided the project with a great deal of support over the life of the project. They will also include Hidden Now Heard stories in their new Life Is… Galleries from next year, not segregated away but an equal part alongside other stories.
When we started the project, we shared the widely-accepted assumption is that now is always better. That idea has been challenged by the stories we have collected.
But there is much more heritage we had to leave uncollected. There are things we could do to improve how we explain the project, and try to remove barriers people feel there are.
We have demonstrated that many patients have control over their histories, but many do not, and the people who have assumed ownership without permission are not sharing those stories, either by design or out of ignorance of the power of that history. It feels as though that collectively many would rather forget.
We would like to thank the Heritage Lottery Fund, Welsh Government, St. Fagan's National Museum of History and our regional museum partners in Swansea Museum, Llantarnam Grange, Cardiff Story, STORIEL, Wrexham Museum and Ceredigion Museum.
You can access a selective archive of the Hidden Now Heard Project by visiting peoplescollection.wales/users/15475
Paul Hunt
Mencap Cymru
Notes to editors: Heritage Lottery Fund: helps people in the UK explore, enjoy and protect the heritage they care about. From the archaeology under our feet to the historic parks and buildings we love, from precious memories and collections to rare wildlife. www.hlf.org.uk