Fifty years ago a group of student volunteers formed Cardiff Universities Social Services (C.U.S.S), a radical charity that opened the first supported living home for adults with learning disabilities in the UK. Now known as Innovate Trust, volunteers with learning disabilities from the charity have been exploring its history, which has culminated in a powerful exhibition at the Cardiff Story Museum. Roger Edwards from Innovate Trust looks back at the history of the charity that transformed the social care sector in the UK.
Innovate Trust is an independent charity, based in Cardiff and Talbot Green, and one of the largest supported living providers operating across South East Wales. The charity provides supported living services to adults with learning disabilities, mental health conditions, physical disabilities or sensory impairments in Cardiff, the Vale of Glamorgan and Rhondda Cynon Taff.
The charity was originally established by a group of student volunteers, including the charity's main founder Jim Mansell CBE, from Cardiff University, in the academic year of 1967/68. Jim went on to be one of the world's leading experts on learning disabilities. The charity was originally called Cardiff Universities Social Services (or C.U.S.S), before being renamed to "Innovate Trust" on 22nd April 2002 by Rhodri Morgan AM, then First Minister of Wales. Volunteers with learning disabilities at the charity have spent a year exploring this history and sharing the story of Cardiff Universities Social Services/Innovate Trust – the first ever provider.
Early development (1967 – 1973)
Cardiff Universities Social Services (C.U.S.S) was established as a student volunteering project in the academic year of 1967. The volunteers worked supporting adults with learning disabilities at Ely Hospital to go on day trips, learn new skills and to act as a social contact. The volunteers worked with a group of 25 adults with learning disabilities.
The first supported living home (1974)
After the success of the early volunteering project, the students felt more could be done to improve the lives of people with learning disabilities. After much planning and preparation, working with Cardiff University, Cardiff Council and Ely Hospital, the volunteers opened the UK's first traditional group home on 13th July 1974 at 12 Ruthin Gardens, in the Cathays area of Cardiff. Five adults with learning disabilities from the hospital moved into the property with three student volunteers. During the day the group home tenants would spend their time at Trelai adult training centre whilst the students were attending lectures.
Expansion and further development (1975 – 1983)
After the success of the group home experiment, the charity relocated the tenants to a more stable residency at Kings Road in Cardiff. The volunteers spent the next nine years raising awareness of this new model of support delivery, sharing their lessons with local authorities, hospitals and universities. The charity went on to open more group homes, funded by the Welsh Office, consisting of both volunteers and paid staff support workers. Part of the charity's work at this time included producing reports, evaluations and recommendations for the Welsh Office and Cardiff Council.
In 1977, the charity opened a short respite centre for adults with learning disabilities on Boverton Street in Cardiff. This home was used to provide a break for carers and adults with learning disabilities who still lived at home with their families. The property was moved to Hamilton Street in Canton, Cardiff, in 1980 where it is still operated by the charity.
In response to the charity's work with people with learning disabilities, the social services department at Cardiff County Council set up a new department in 1981, called NIMROD, in order to replicate and extend the Cardiff Universities Social Services model of providing support to adults with learning disabilities, opening a number of supported living homes in Cardiff and the surrounding areas.
In 1983, partially in response to the Ely Hospital Scandal, the Welsh Office launched the "All Wales Strategy for the development of Services for people with learning disabilities" (Doc). This new piece of legislation, requiring local authorities to move away from the institutionalised model of support, highlighted Cardiff Universities Social Services as an archetypal model to be shared across Wales.
Sharing the C.U.S.S model (1984 – 1990)
In response to the All Wales Strategy, supported living expanded rapidly across Wales, and the rest of the UK, with Cardiff Universities Social Services taking a leading role in either directly setting up new services or advising newly formed bodies on resettlement and supported living.
In 1985 C.U.S.S helped develop the Opportunity Housing Trust (renamed as Mirus in 2012), a large organisation set up to extend the C.U.S.S supported living model across Wales, by providing advice, guidance and transferring staff and trustees to the newly formed charity.
In 1988, after many years of rapid expansion, Cardiff Universities Social Services, working with Mencap Cymru, the Welsh Office and parents groups, split its operations, and combined with new contracts from local authorities created Cartrefi Cymru; another all wales supported living charity adopting the C.U.S.S approach.
Diversification (1991 – onward)
After several years of expansion and later reduction, the charity remained with a number of supported living homes in Cardiff and the Vale of Glamorgan but began to expand the range of services they provided for adults with learning disabilities. In 1991 the charity launched a bespoke employment agency for adults with learning disabilities called Quest. In 1997 the charity established two emergency accommodation centres for adults with learning disabilities in crisis to prevent them from becoming homeless.
In 2002, the charity was renamed as Innovate Trust and made a formal partnership with Student Volunteering Cardiff – SVC (previously known as Cardiff Student Community Action – CSCA), a charity that had been working alongside C.U.S.S since its origins. In 2003 the charity added a catering division to support adults with learning disabilities to learn to cook and to have meaningful employment. This took place at Park View Café, situated opposite Victoria Park in Canton. Since then we have gone on to open several cafes across Cardiff and the Vale of Glamorgan.
In February 2007, Innovate Trust secured a contract with Cardiff County Council to manage 21 supported living settings across Cardiff and an Emergency Accommodation and outreach service. In 2015, following a re-tendering process, Innovate Trust expanded its supported living provision to include another area of the capital.
In September 2007, Innovate Trust secured its supported living services in the Vale of Glamorgan and in 2012 the organisation successfully re-tendered to provide additional supported living services in the Vale.
In 2013 the charity expanded its operations to provide supported living services for an additional 89 adults with learning disabilities in Rhondda Cynon Taff, also opening a new regional office in Talbot Green Business Park, Pontyclun. In 2014 the charity launched a new department called Green Days carrying out environmental work, training and outdoor opportunities for adults with learning disabilities.
In 2017, Innovate Trust launched a new research project in partnership with Nesta, the Welsh Government, Y Lab and Cardiff University, exploring smart technology and the use of smart speakers for supported living tenants. The charity was awarded the Wales Council for Voluntary Action's digital inclusion award for its innovative and inclusive use of technology. This is the first known project of its kind and received a lot of attention from various media outlets. After the initial research project the charity expanded this technology to all 197 individuals it supports in Cardiff and the Vale of Glamorgan.
C.U.S.S – Cardiff Story exhibition tells the untold story
To celebrate this amazing achievement and recognise the hard work, dedication and commitment of everyone involved with the charity over its history, an exhibition has been created to chronicle the work of the pioneering student volunteers who helped establish supported living as we know it, and the trail blazing individuals supported by the charity who fought for their right to live in their own homes in the community, rather than being forced to live in long stay institutions and hospitals.
With support from the Heritage Lottery Fund, Innovate Trust spent a year reflecting on this history, researching documents and filming stories and establishing permanent records with local archives and museums to preserve this important history for future generations. Additionally the people supported by the charity helped design, create and build 'C.U.S.S – The Untold Story', a 'travelling-history roadshow' which is currently at Cardiff Story Museum in the Old Library in the Hayes, Cardiff City Centre. Cardiff Story Museum is the official museum responsible for preserving, sharing and researching the history of the city and county of Cardiff, the Capital City of Wales, and Innovate Trust are very pleased to be working with the museum to share this important story.
Don't miss your chance to see the work of Innovate Trust's volunteers and learn about the history of Innovate Trust, social care and the city of Cardiff. Entry to the museum to see the exhibition is free and the museum is open to everyone seven days a week, 10am until 4pm. The Innovate Trust Heritage Exhibition will be featuring there until 3rd March 2019. To find out more about this history, the exhibition or the work of Innovate Trust you can also get in touch with Kieran Vass at Innovate Trust, on 029 2038 2151 or Kieran.Vass@innovate-trust.org.uk
Case studies from C.U.S.S – remembering the pioneers of Innovate Trust
John's Story (1953 to 2011) – Picture: John

Before John moved out of Ely hospital in 1974 to live in the UK's first supported living home, he had a reputation with the hospital staff as having a
temper and for "stirring up trouble". Once John had been given his own freedom, he relished in it and in his later life in the community he was known as a patient and charming gentleman with a first class sense of humour.
John lived many happy years in the community with his housemates, supported by a team of dedicated staff. Even when John's healthcare needs increased considerably in his later life, with support from Innovate Trust he was able to live out his remaining years in his own home. Sadly, many disabled people end up in inappropriate institutional nursing care,
losing touch with friends and families when their needs change. However John had fought for a home for life and that was what Innovate Trust provided him with.
The work of John and his housemates was an inspiration for many and a debt of gratitude was owed to them by thousands and thousands of people, whose lives were transformed by their pathfinding actions.
Alan's Story (1955 to 2009) Picture: Alan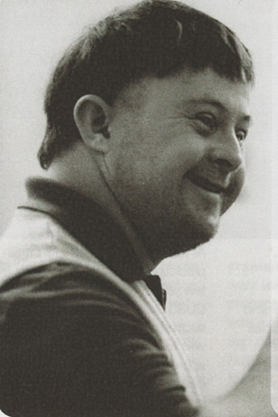 Born in Cardiff in 1955, Alan had Down's syndrome, and whilst still a young boy he was admitted to the children's ward of Ely Hospital, a place where many disabled people would live out their entire lives. A group of student volunteers from Cardiff University began a charity called Cardiff Universities Social Services, or C.U.S.S (now known as Innovate Trust). These pioneering students started to ask the right questions, suc
h as"Why can't people with learning disabilities live in the community with a little bit of help and support?" These students began to change opinions and move people out of hospitals into "Group Homes" with the support of local authorities and health professionals.
Alan was one of the first people to move away from Ely Hospital and move in with student volunteers at 12 Ruthin Garden's – the UK's first ever supported living home. With the help and support of the committed and passionate volunteers, Alan was able to live a full and happy life in the community. The work of CUSS continued, eventually contributing to the All Wales Strategy, which closed down institutions across Wales and de-stigmatised learning disabilities. The supported living model is now the primary form of Learning Disability Social Accommodation in the world and CUSS, which was renamed as Innovate Trust in 2002, continues to support and empower people with learning disabilities across South Wales. It all started here with a group of students in a shared home on Ruthin Gardens.