Learning Disability Wales is delighted that Innovate Trust have chosen our Gig Buddies Cymru project as their Christmas charity for 2021.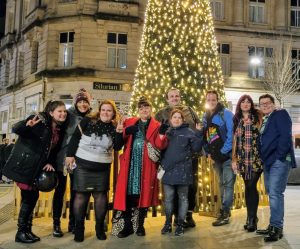 Gig Buddies Cymru tackles loneliness and social isolation by pairing people with and without a learning disability and/or autism so they can attend gigs and events together. Since launching the innovative project in Cardiff in 2018 Learning Disability Wales has now expanded Gig Buddies to half the local authorities in Wales.
Learning Disability Wales' Innovations Manager Karen Warner said: "We would like to thank Innovate Trust for their generosity of a donation of £5,000 to help with our Gig Buddies work, which will help to support more Gig Buddy friendships. Gig Buddies Cymru works closely with Innovate Trust, and their Insight App has been a lifeline for people to socialise and take part in various activities during the pandemic. Some of our Gig Buddies and Stay Up Late Ambassadors in Wales are peer mentors on Insight and we have enjoyed holding joint parties and quizzes on the app."
Nick French, CEO of Innovate Trust, said: "Innovate Trust are delighted to be able to support Gig Buddies. So many people benefit from their work already and talk warmly about their experiences. They deserve support to maintain and expand this invaluable and imaginative service."
In the 3 and a half years since Learning Disability Wales set up the project in Wales Gig Buddies have attended a huge variety of events together, including concerts, festivals, musicals, comedy, sport matches and theme parks, and have visited museums, castles, galleries and other places of culture. Many of these events were new experiences for Gig Buddy participants. Gig Buddies have told us that as well as helping them to make new friends and attend events that they love, being part of Gig Buddies has helped to improve their independence and confidence.
Gig Buddies Cymru is looking for volunteers and participants who want to be Gig Buddies in Anglesey, Bridgend, Cardiff, Conwy, Denbighshire, Flintshire, Gwynedd, Merthyr Tydfil, Rhondda Cynon Taf, Vale of Glamorgan, and Wrexham. To apply to be a Gig Buddy or to find out more visit our Gig Buddies Cymru page where you can download an application form and watch videos about the project.