Learning Disability Wales is delighted to announce that the two young disabled people we will be supporting in the next Welsh Youth Parliament are Georgia Miggins, from Swansea, and Tegan Skyrme, from Pembrokeshire.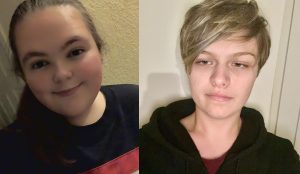 Learning Disability Wales is proud to be working with Welsh Youth Parliament for a second term as a partner organisation. We will be supporting Georgia and Tegan to speak up at the Youth Parliament on behalf of other disabled young people in Wales. The second Welsh Youth Parliament will run from January 2022 to December 2023.
Mirroring the make-up of the Senedd, the Welsh Youth Parliament is made up of 60 Welsh Youth Parliament Members. Young people across Wales have recently been voting for the 60 young people aged 11-18 who will make up the next Youth Parliament. 40 of these were selected through the main election process while the remaining 20 were chosen by young people from partner organisations, including Learning Disability Wales.
The Welsh Youth Parliament have today announced the 60 new Welsh Youth Parliament Members. You can find out who will be joining the new Welsh Youth Parliament on their website.
Our application process offered 3 options for young disabled people who wanted to become Members of the next Youth Parliament. We accepted applications in writing, by video or audio recording to ensure that the process was as accessible as possible. All of the applications were then studied and discussed by a panel of young disabled people in order to make the final selection.
It was a very difficult decision as all the young people who applied expressed themselves very well and clearly had a lot to offer as advocates for young disabled people across Wales. The feedback from the panel was extremely positive and they felt that any of the applicants would make excellent Youth Parliament Members. Comments included "passionate", "open and honest", "confident" and "really cared about others".
Georgia Miggins – Welsh Youth Parliament Member
Georgia is 17 and lives in Swansea. She is autistic and passionate about raising awareness of autism in girls and increasing the representation of disabled people in society. Georgia said, "I know how important it is for somebody with disabilities to feel like they're inspired and being represented when they see somebody like me who has a disability like them in this Youth Parliament role". She is also keen to raise issues around mental health and the lack of suitable leisure opportunities for young people.
Tegan Skyrme – Welsh Youth Parliament Member
Tegan, 15, is from Pembrokeshire and wants to ensure that young people living in rural parts of Wales have their voices heard. Tegan is visually impaired and passionate about representing the rights of disabled young people. In her application video Tegan said, "I know all too well what it's like to not be given enough or the right support both in schools and in day-to-day life. I also know what it's like to be treated differently both for my disability and for being a member of the LGBTQ plus community, which is another group which I would be extremely proud to represent."
Sam Williams, Policy and Communications Manager, coordinated the application process and explained what a positive experience it had been: "It was wonderful to receive so many brilliant applications from a range of young disabled people across Wales. I was just very glad that I didn't have to make the final decision as they were all so amazing!". She added, "Huge congratulations to Georgia and Tegan. We are really looking forward to working with you both and hope that you get a lot out of this unique experience."
We would like to thank all the young people for taking the time to apply and wish them all the best for the future. We also want to thank the panel for giving up their time to go through the applications and for making the very difficult final decision.
We will be sharing Georgia and Tegan's progress as Members of the Youth Parliament on our website and social media channels over the next 2 years. To find out more about the Welsh Youth Parliament, including details of all 60 new Members, visit their website.