Gig Buddies is a befriending scheme that matches people with a learning disability and/or autism in Cardiff with volunteers who share the same interests, so they can go to gigs and events together.
---
1 April 2018 – 31 March 2020. Funded by First Choice Housing Association.
---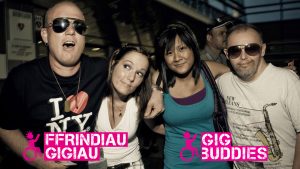 Gig Buddies specifically focuses on events that happen in the evenings, such as concerts, in order to break the many barriers that stop people with a learning disability going out at night and staying up late.
These barriers include lack of support, or inflexible support that forces people to leave events early. Other obstacles include transport, confidence, safety, and accessibility of venues and events. Most importantly, Gig Buddies are free to choose what their 'gig' is and when and where they want to go.
A 'gig' can be a concert or a festival, but it can also be a rugby match, a trip to a museum or theme park, or a visit to the beach. Your Gig Buddy could be a Football Buddy, a Bowling Buddy, a Rambling Buddy, a Quiz Buddy, a Roller Skating Buddy, a Surfing Buddy. If you find it difficult to get to events and gigs a Gig Buddy can make this possible for you. It's all down to you to tell us what kind of Buddy you want!
If you are over 18 and live in Cardiff, and would like a Gig Buddy to get out more, or know someone with a learning disability who would benefit from having a Gig Buddy, then get in touch with us.
Our Gig Buddies team is Kai Jones, Project Coordinator, and Kylie Smith, Project Administrator. Get in touch by email: gigbuddies@ldw.org.uk or phone: 07707 605 314 / 07594 938 522. You can also follow Gig Buddies Cardiff / Ffrindiau Gigiau Caerdydd on Facebook, Twitter and Instagram.