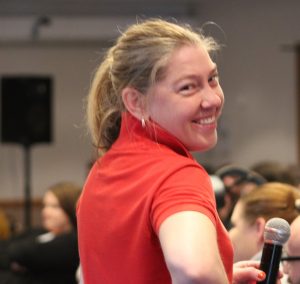 Our dear colleague and friend Sam Jenkins died on 1 December 2020. All her colleagues and friends at Learning Disability Wales will miss Sam for all that she brought to us over the years.
Sam started work at Learning Disability Wales over 13 years ago and quickly established herself as a strong and reliable team member. She was very proud to be part of the Learning Disability Wales team, always willing to support the organisation and her colleagues wherever she could. One of the highlights of our working year, and of Sam's, was our annual conference where we would all wear our red t-shirts and be together as a team.
Sam was more than a colleague to us though, to many she became a good friend who reminded us all that a cup of tea and a chat is sometimes the most important part of the day.
We all hold many memories of Sam's sense of humour and fun, how she loved to talk and share memories of things we had done together. A work get-together or party was never the same if Sam couldn't make it, and she could always be relied upon to have the best Christmas jumper at our Christmas meal.
Sam was a very determined and resilient person. For much of her life Sam had to push to establish her own independence and be heard, and those who knew her were able to see that her determination and resilience served her well.
Sam was also a committed self-advocate for the rights of people with a learning disability. It was important for her that her experience and her thoughts could be used to make life better for all people with a learning disability in Wales.
During lockdown Sam felt the pain of being separated from the ones she loved and the patterns of ordinary life, just like the rest of us. But she didn't take this lying down. Sam was determined to keep in touch and was the driving force behind keeping her colleagues connected and talking, not about work but just for the joy and comfort of talking with friends, sharing a laugh, talking over problems and remembering what is important in life.
Sam's mum Margaret, all her family and her boyfriend Nathan are in our thoughts, along with the countless people in Sam's life to whom she brought happiness.
All of us at Learning Disability Wales will forever miss Sam and never forget all that she gave and taught us: loyalty, laughter, determination, friendship, and the power of a strong woman.