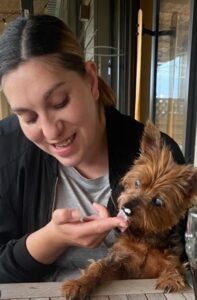 Catherine Watchorn has been living with her Shared Lives carer Liz and her family in North Wales for over 14 years. Sam Williams, Learning Disability Wales' Policy and Communications Manager, met up with Catherine to chat about how Shared Lives has helped her to increase her independence and her role as an ambassador for Shared Lives.
When Catherine first moved in, she was really nervous but Liz sat down with her and asked what sort of things she wanted help with.
Together they came up with a plan to help Catherine reach her goals including getting a job, learning how to cook and clean for herself, and looking after her own money. Catherine felt that her previous residential placement had not helped her with any of these things and had knocked her confidence, so she was really keen to finally start working towards her goals.
Before moving in with her Shared Lives family, Catherine had previously lived in a mother and baby placement with her son. She was told that the aim of the placement was to support her to learn new skills and improve her ability to look after her baby son safely. However, Catherine says that she was not offered support during her placement, only criticism and negativity. She became depressed and lost a lot of weight. Catherine believes that the lack of support contributed to her son being permanently removed by social services.
"I had an appointee looking after my money so I didn't know how much money I had," Catherine said. "I felt that they had taken over my life. I was told that I didn't need an advocate so I didn't have anyone to support me at this very difficult time in my life. I was not treated as part of the family. I felt that they saw the learning disability and not the person that just needed a little help."
Moving on
After moving in with her Shared Lives carer, Catherine started volunteering locally as part of her long term plan to find paid work. She was later chosen to be a member of the Learning Disability Advisory Group that provided information and advice to Welsh Government on the issues affecting the lives of people with a learning disability in Wales.
Catherine learnt to cook healthy meals for herself as well as how to use the washing machine. She now does her own shopping and washing as well as managing her money and looking after her pet dog Sky.
Catherine loves gardening and spending time in nature, including walking her dog and going on holiday with Liz and her family in a lodge in the countryside. She also enjoys spending time with her friends and travels independently to meet them at the pub or cinema.
When asked how she feels about her life since moving in with her Shared Lives carer, Catherine replied, "It's wonderful, fantastic! I can do things for myself".
Catherine's confidence has grown and she feels happy and positive about the future. "My Shared Life is perfect, I don't want it to change. Liz is fantastic. I can do the things I enjoy and have freedom to live the life I choose, not be told I must go to bed at a certain time every night, eat at the same time each day.  This is family life and it's perfect."
Working as a Shared Lives Ambassador
In May 2022 Catherine was appointed as a Shared Lives Ambassador for Wales. This was a role she was very keen to apply for as she wanted to raise awareness of Shared Lives and help others in similar circumstances to her. Catherine had already spoken to Welsh Government about Shared Lives in the past and co-delivered a workshop at one of Learning Disability Wales' annual conferences to share her story, so she was a perfect candidate for the role of Ambassador.
Talking about her new role, Catherine said: "I'd like to tell more people about Shared Lives so that others can have what I have here with Liz and her family. A lot of people I speak to have never heard of Shared Lives or don't understand it."
Catherine has already had some training to help her in her new role and attended a UK-wide staff meeting to talk about the organisation's plans for promoting and expanding the Shared Lives programme. She will also be having more training over the coming months, including public speaking. Catherine is really looking forward to learning new skills and working with the team to raise awareness of Shared Lives in Wales and how it can support people with a learning disability.
What is Shared Lives care?
In Shared Lives, an adult or young person who needs long term support is matched with an approved Shared Lives carer by their local Shared Lives scheme run or commissioned by local authority adult social care services. Together, the person needing support and the Shared Lives carer share the carer's family and community life.
People using Shared Lives either move in with their chosen Shared Lives carer to live as part of their household or they visit for day support and/or overnight breaks. People get person-centred care and support in a place that feels like home. Shared Lives schemes are available across Wales. Find out more on the Shared Lives Plus website here.
Supporting parents with a learning disability
One of the projects that Shared Lives has been delivering in England and Scotland offers support to parents with a learning disability. The parent who needs support can visit their Shared Lives carer's home for short breaks or day support, or move in with them, sharing family and community life.
Unlike in parent and child fostering, the Shared Lives carer does not have parental responsibility for the child. Rather, their role is to enable the parent to care for their child. Shared Lives carers support parents to learn new information and parenting skills; and they can support the parent to identify and build on their strengths.
The parent with a learning disability has the chance to experience positive role-modelling of family life and receive practical support at all stages of their child's development to work towards an independent life.
The goal is to enable parents to gain confidence and build their own community links, to ensure they will be able to support their child longer-term.
Learning Disability Wales hopes that this project will be extended to Wales in the future so that more parents with a learning disability can benefit from the person-centred support that this model can offer.
Find out more about the parenting project on the Shared Lives Plus website here.