Stay Up Late – choosing the life we want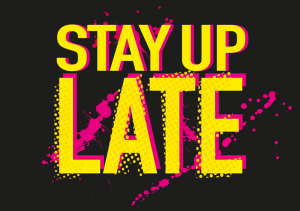 Join us at 10:30 am on Wednesday 20 July for the latest meeting of Connections Cymru: our network to bring people together to reduce loneliness and social isolation.
We are excited to be joined by some of the Wales Stay Up Late Ambassadors at this meeting.
Going out to see a band, going to pub, a rugby match or seeing friends is everyday life for lots of people. Many people with a learning disability need support to go out and have some fun. Often, they have to do this to fit around the working hours and shift patterns of support staff.
Stay Up Late is a UK charity committed to promoting the rights of people with learning disabilities to live the lifestyle of their choosing. It all began in Brighton 10 years ago and led to the set up of Gig Buddies projects around the UK, including ours in North and South Wales.
Simon, Sophie, Tracey, and Victoria are four of the eight Stay Up Late Ambassadors for Wales. At the meeting they will:
explain what Stay Up Late is all about and why it is important
tell you about their recent 10 campaign pledges and
introduce Gig Buddies Cymru
We will then talk about how you, your organisation and people in your area can support these aims and play a role in making sure people get to make the choices they want in their lives.
Meet the ambassadors: https://stayuplate.org/ambassadors/
Date: Wednesday 20 July 2022
Time: 10:30 am until 12:00 midday
Location: Online via Zoom
Book your free places here: