We are finding out how people's lives have been during the coronavirus pandemic.
This is a one year study involving researchers and organisations across the UK to find out and report on how coronavirus is affecting the lives of people with a learning disability. It is being funded by UK Research and Innovation.
Phase 1 October 2020 to February 2021
We want to thank the many people who have helped us in the first phase of the study.  Sincere thanks go to people with a learning disability who have been interviewed, the people and organisations who have helped to find people, their supporters, friends and family carers. 
Phase 2 – from end of March 2021
Phase 2 is now complete and we would again like to thank everyone who took part. Phase 3 will begin in mid-June but we will not be recruiting anyone new to this phase of the study as researchers will only be interviewing those who took part in phases 1 and 2.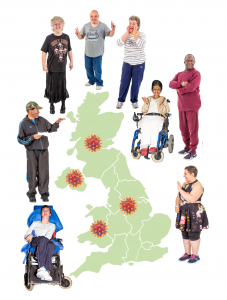 Why is the study being done?
Coronavirus has led to changes for all of us. New social rules and changes in our day to day lives are not always easy to live with.  How have the lives of people with learning disabilities been changed and how do they feel about this?  We want to find out from people and then we want to share what we find out with policy makers, services and people themselves regularly during the year.
Who is doing this study in Wales?
In Wales researchers from the University of South Wales and Cardiff University will be doing the study with help from Learning Disability Wales, the All Wales Forum of Parents and Carers and All Wales People First.
The researchers will interview 200 people with a learning disability in Wales.
Some adults with learning disabilities may not be able to talk to researchers so they want to speak to 100 family carers or paid support staff who could tell researchers about what has happened to those people too
The researchers will interview people 3 times during the year. The survey interview will be done to suit the person. For example online, face to face (virtual) or by telephone.
Questions will be about their wellbeing, health, social life, their services, the issues that are worrying them and how coronavirus has affected their lives.
More information
Easy Read briefing on the study can be found here
Video by Ffion, Chair of Caerphilly People First
Video by Sophie, Co-Chair of the Learning Disability Ministerial Advisory Group
Video by Gerraint, Lead Ambassador for Engage to Change
What we found out from the first part of the study September 2020 to March 2021
To find out more about the study contact:
University of South Wales Professor Stuart Todd stuart.todd@southwales.ac.uk and Edward Oloidi edward.oloidi@southwales.ac.uk
Cardiff University Dr. Stephen Beyer beyer@cardiff.ac.uk
Learning Disability Wales Karen Warner: 029 20681160 or email karen.warner@ldw.org.uk
All Wales Forum of Parents and Carers. Phone: 02920 811120 or 07976 223992 or email Josh Law: josh@allwalelesforum.org.uk or Gwen Anslow gwen@allwalesforum.org.uk
All Wales People First. Tracey Drew. tracey@allwalespeople1st.co.uk. Phone 07956 082211