Hijinx has launched seven recommendations for casting actors with learning and developmental disabilities for film and TV, whilst challenging the screen industry to produce a learning disabled Oscar winner by 2030.
The standards, which include advice on avoiding stereotypes, auditioning appropriately and working in partnership, have been developed by Hijinx in a bid to promote ethical casting, and to ensure that learning disabled characters are fairly represented on screen.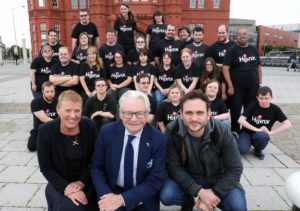 The new guidelines, which are aimed at productions worldwide, were proposed and backed by senior screen industry representatives and politicians in Wales at yesterday's Casting Neurodivergent Actors in Film & TV Seminar, held at the Pierhead Building, Cardiff Bay. You can read the seven recommendations below.
"We wouldn't accept an actor 'blacking up' in 2018, we shouldn't do the same with learning disabled roles."
Clare Williams, Chief Executive of Hijinx, set a challenge to the screen industry as a whole:  for a learning disabled actor to win a BAFTA Cymru award by 2025, a BAFTA award by 2028 and an Oscar by 2030. She said: "It would be shocking to see an actor 'black up' to play a character of colour, and we feel that in 2018 it is equally unacceptable for a non-learning disabled actor to play the part of a learning disabled character. The recent pledge made by the BBC to double the number of disabled people working for the corporation by 2020 is a great step forward, however this is only taking us halfway, as we should be reflecting the true diversity of our society on our screen too.
"We believe that our goal of a neurodivergent actor winning an Oscar by 2030 is achievable through effective partnerships between the screen industries and learning disabled-led organisations such as Hijinx. For each of the seven recommended new industry standards we offer a solution and support. Today we are letting the screen industry know that we are here to help."
During the seminar Llyr Morus, Pobol y Cwm's Producer was praised for including a learning disabled character, played by a learning disabled actor in an ongoing storyline. Pobol y Cwm approached Hijinx early on in the storyline process and were able to build in the necessary arrangements for casting and rehearsals. Sian Fouladi, 28, an actor with Down's syndrome has played the character Ceri since 2017 and was supported in rehearsals and on set by a Neurodivergent Artist's assistant from Hijinx.
Also a participant at the seminar, Bad Wolf Chief Operating Officer, Natasha Hale commented: "Bad Wolf are committed to doing anything we can to support learning disabled actors and are excited about working with Hijinx to do so." Bad Wolf has produced numerous films and television series, including Sky's popular fantasy drama, A Discovery of Witches, and the new BBC adaption of Philip Pullman's His Dark Materials.
Hijinx Recommendations For New Screen Industry Standards For Casting Learning-Disabled (Neurodivergent) Actors
Reflect Diversity of society in film and TV productions, creating more storylines involving learning disabled (LD) characters.
Avoid Stereotypes: develop nuanced, true-to-life LD characters.
Cast Authentically: bring an end to casting non-disabled actors as learning disabled characters.
Audition Appropriately: offer non-script-based auditions to actors who find reading challenging, and relaxed auditions to actors who find both time pressure and waiting distressing.
Work In Partnership with experts in the field of learning disability to understand and meet the needs of LD actors.
Invest In Training: Upskill staff to know how to communicate well with LD actors and freelancers.
Provide Experience for LD actors to experience life on set.
Reflect Diversity & Avoid Stereotypes
Create realistic neurodivergent characters by spending time in Hijinx Academies in Cardiff, Carmarthen, Aberyswyth and Prestatyn where neurodivergent actors are trained on a weekly basis. www.hijinx.org.uk/academies . Workshop character ideas and lines with Hijinx Actors, with support from Hijinx staff. 
Cast Authentically
Use Hijinx's casting platform www.hijinxactors.co.uk to identify the right neurodivergent actor for your production. Hijinx Actors is a database of 70 neurodivergent actors, known and trained by Hijinx, with conditions which include Autism, Asperger's syndrome, Down's syndrome, Williams Syndrome and other learning disabilities.
Audition Appropriately
Traditional auditions often exclude neurodivergent actors because of a heavy reliance upon text, quick turnaround of audition scripts, and the time-pressured process of the auditions themselves. Tips for running accessible auditions for neurodivergent actors include:
For script-based auditions, provide scripts as far in advance of auditions as possible, to allow for actors – supported by a Hijinx assistant – to prepare thoroughly.
Accept self-tape submissions, to allow actors a low-stress environment to show you their best work.
Run workshop-based auditions to assess actors through improvised or devised scenes or exercises, rather than text-heavy scripts.
Respect the needs of neurodivergent actors to be accompanied to auditions by an assistant.
Hijinx can facilitate workshop auditions at our Academies in Cardiff, Carmarthen, Aberystwyth and Prestatyn.
Work In Partnership
Through 20 years' experience of working with neurodivergent actors, Hijinx has developed expertise needed by the Welsh screen industries to support these actors at every stage of the filming process – from casting to contracting. Hijinx will:
Prepare Hijinx Actors for auditions and filming, including line learning.
Travel with Hijinx Actors to auditions (and on overnight stays if necessary).
Accompany Hijinx Actors on set.
Deal with contracting and logistics on behalf of the Hijinx Actor.
Invest In Training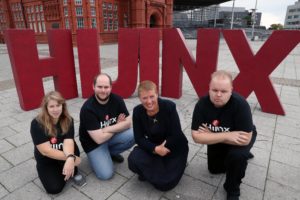 Giving staff greater confidence in communicating with neurodivergent actors is vital to ensure actors produce their best performance and you get what you need on camera. Sourcing disability awareness training or communications training is strongly advised.
Hijinx offer communication skills training specifically for frontline staff who interact with vulnerable and neurodivergent adults. Through role play with neurodivergent actors, staff have the chance to practice every day scenarios – tailored to their work life – in a safe, non-judgmental small group environment. Hijinx already work with a range of public and private sector business, such as Cardiff Airpor
t, Legal & General, Hugh James solicitors and Cardiff University. Visit www.hijinxtraining.co.uk for more information.
Provide Experience
Giving neurodivergent actors the chance to familiarise themselves with life on a film or TV set will help to increase their confidence and sense of belonging in the screen industries. This could include a tour, a short term work experience placement, or a more structured internship on a specific project.
Hijinx work with partners in the screen industries to facilitate experience on set for Hijinx Actors. If you have opportunities to offer, contact Hijinx on info@hijinx.org.uk.