Today is Holocaust Memorial Day, an opportunity to reflect, learn, and remember all who were persecuted and killed during The Holocaust, under Nazi persecution, and in subsequent genocides.
27 January 2020 marks the 75th anniversary of the liberation of Auschwitz, the Nazi concentration and extermination camp where 1.1 million people were killed during the Holocaust.
People with a learning disability were among the first groups of people to be targeted during the Holocaust – sterilised and murdered under the Nazi's Aktion T4 programme that killed an estimated 300,000 disabled people.
We have gathered accessible resources about the Holocaust to ensure people with a learning disability today are involved in the remembrance, learning, and educating others about the essential facts of the Holocaust, as well as its causes and consequences.
'Easy to read' and accessible resources
We are not currently aware of any
easy read
 resources about the Holocaust, that would be completely accessible for people with a learning disability. However, there are some good 'easy to read' resources intended for younger audiences that can be useful:
Berge Kanikanian from Ealing Mencap has produced  a short documentary about the treatment of people with learning disabilities in the Nazi Aktion T4 euthanasia programme. Berge explains the reasons for making the film in this article on the Holocaust Memorial Day Trust website .
BBC Ouch! article about the Holocaust and disabled people.
BBC Newsround and the Holocaust Educational Trust have made a very informative 'easy to read' guide to the Holocaust for younger audiences. It details a timeline of events, explains difficult words, and links to further information about key events, such as the Kindertransport

.

The

Holocaust Memorial Day Trust

have produced excellent 'easy to read' life stories, including one of Anne Frank.
The Holocaust Explained is a website designed for thirteen to eighteen year olds in mind, but it aims to be accessible to other users as well. Part of the Wiener Holocaust Library, it includes videos from survivors telling their stories, historical background information, an insight into the Jewish faith, a timeline of events, and a teachers' support section.
The Shoah Foundation was founded by director Steven Spielberg following the release of his film about the Holocaust, Schindler's List. They are dedicated to making audio-visual interviews with survivors and witnesses of the Holocaust and other genocides. While the website may be difficult to navigate for some, the films are an accessible and powerful way to learn and understand the Holocaust, and can be watched on the Shoah Foundation website or on their YouTube channel.
If you are aware of any accessible resources about the Holocaust – whether they are easy read resources, theatre productions, or accessible films – we would like to know about them. Please email Kai Jones at kai.jones@ldw.org.uk.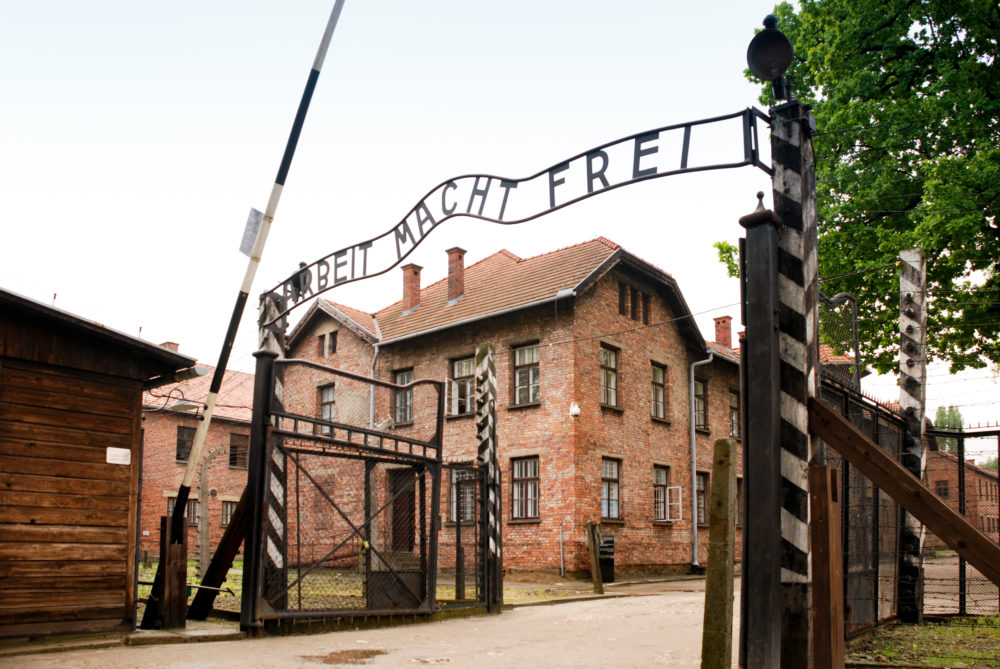 Gate to Auschwitz I with its 'Arbeit macht frei' sign ("work sets you free")