We're delighted to welcome Sian Lloyd-Davies, our new Gig Buddies Project Coordinator for North East Wales, to the Learning Disability Wales team. We asked Sian to tell us about herself, and her new role with our befriending project. 
---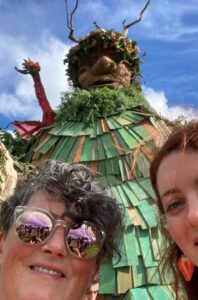 Hi everyone. I'm Sian, and I am very excited join the North Wales Gig Buddies team. I love what Gig buddies is about and how it creates friendships through culture and social activities. 
My role is to coordinate the project in North East Wales. This includes: 
meeting and getting to know new and existing Gig Buddy volunteers and participants

 
making Gig Buddy matches

 

working with people and organisations so adults with a learning disability can lead active social lives in North East Wales. This includes arts venues, disability groups, local authorities, the voluntary sector, and anyone else who can help Gig Buddies Cymru in our work.

 
I am an artist and maker. I originally trained in graphic design and handmade lettering, such as sign writing, stone carving and calligraphy.  
I've developed other creative skills over the years, with mosaics being the main one. I have worked in lots of different areas, such as film sets, community projects and facilitating workshops. I thrive on variety and being around people from all walks of life – it feeds my creativity! 
My other big passion is music…especially live music, and I spend most of my pocket money on gigs and festivals! One of my favourite festivals is Green Man in the Brecon Beacons – I love the setting and line-ups. The last few years I have attended as a volunteer there – I love contributing to something so good. 
I have been really fortunate in being able to combine what I love within my working life. I have worked as an Activities Lead with adults who have mental health issues and learning difficulties, which combined arts, the outdoors and events, to support people's health and well-being. Community and inclusivity are big in my holistic approach to life. 
I'm looking forward to getting to know our Gig Buddies in North Wales and hope to see everyone at a social in the next few months. 
We're looking for new Gig Buddy volunteers in all of our Gig Buddy areas. Whatever your interests and hobbies, as long as you are over 18, you could be the perfect Gig Buddy to someone. Find out more and apply here.