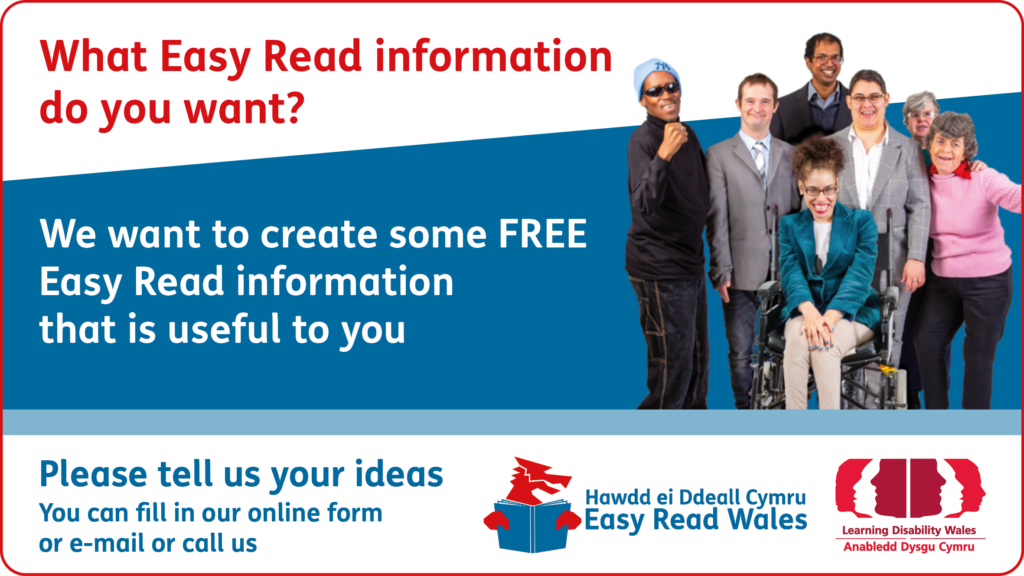 Our Easy Read Wales team want to create some free and useful Easy Read Information.
Usually this is a service that our clients pay for, but we want to make sure you are getting the information that you really need and want.
Easy Read Wales:
We want your ideas for Easy Read!
We are looking for ideas from people with a learning disability, self-advocacy groups, family, carers, and professionals.
Why do we want your ideas?
We want to make Easy Read that is useful and that you really need. To make good Easy Read we talk to the people who use it. Your feedback helps us with the quality of all our work.
Please do tell your friends about this too, the more ideas we have the better!
What ideas do we want?
You might have read something or seen something in the news that you want to know more about.
There might be a subject you would like to know more about
Or is there something you are trying to do that you need more information about?
It could be anything, for example you might want Easy Read information about:
How to join a dating app.
What are the political parties all about in the UK and how do you decide who to vote for.
Cooking.
Looking after a pet.
Getting a bank loan.
Donating blood.
Setting up a social media account and staying safe online.
It needs to be helpful for lots of people with a learning disability, so it cannot be just about where you live.
About Easy Read Wales
We create accessible Easy Read documents for people with a learning disability.
We can:
Translate text into Easy Read.
Professionally design documents to match branding.
Provide a finished Easy Read PDF that can be printed and is digitally accessible for people using a screen reader and other assistive technology.
We have worked for over 20 years making Easy Read for lots of clients, including Welsh Government, the public sector, disabled people's organisations and charities.
How to send us your ideas
Please send us your ideas by the end of March 2023.
You can tell us about your ideas by:
Once we have your ideas, we will put the top 5 online and ask people to vote for their favourite one. We will then make the winning idea into Easy Read later this year.
When it is finished it will be available for free on our website. We will tell everyone it is ready through the Learning Disability Wales newsletter and on Twitter and Facebook.
We are looking forward to hearing your ideas!