Stay Up Late have launched a new campaign that highlights how restrictive staff rotas prevents people with a learning disability from enjoying nights out and having control over their social lives – and shows how staff teams can change this by planning flexible rotas. Kai Jones, project coordinator with our Gig Buddies project, was at the launch gig of the campaign in Brighton, and explains why this issue is central to enabling people with a learning disability to have full control over their lives.
---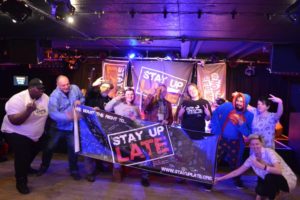 No one should ever tell you what your bedtime is – only you get to decide! It's up to you whether you stay up late, or go home early – it's your choice!
But far too often adults with a learning disability who live in supported living are forced to leave a night-out early – or not go at all! – because their support worker is finishing their shift right in the middle of the event.
Stay Up Late's new #NoBedtimes campaign is raising awareness of this practice that prevents people from enjoying a full social life.
They have worked with support provider Grace Eyre to create an advice sheet that helps support teams to plan a 'No Bedtimes staff rota' – the information sheet shows how it is possible to write staff rotas that mean not only do people with learning disabilities lead great lives, but support staff find it better as well.
'Eight steps to devising a No Bedtimes rota' (PDF) is part of the No Bedtimes campaign pack – which you can get for free by contacting Darren, Campaigns Co-ordinator at Stay Up Late: email darren@stayuplate.org, phone 01273 418102.
You can also download the digital information, including the 'Eight steps to devising a No Bedtimes rota' information sheet and an easy read leaflet about the No Bedtimes campaign, at the Stay Up Late website.
Last night some PJs changed my life
The No Bedtimes campaign was officially launched at a Stay Up Late fundraising gig in Brighton in November, where everyone turned up in their pyjamas and partied late in to the night. I was lucky enough to be at the gig as Stay Up Late cleverly made sure to hold it following our annual Gig Buddies project partners meet-up – where Gig Buddies projects from as far afield as Scotland, Wales, England and Australia get together to exchange ideas and plans.
The gig was amazing – fantastic sets from BBC 6 Music favourites Italia 90, Asbo Derek, and two great learning disability bands, 2 Decks, and The Golgis. But the best thing by far about the night was seeing music fans with a learning disability occupying space in a mainstream venue, the Komedia, dancing down the front in their PJs ( a brilliant idea to hit home the message of No Bedtimes!) and mixing with fans of Italia 90 who had just turned up to see the headline band, and probably had no previous knowledge of the issue behind the event.
This was no segregated gig purely put on for people with a learning disability in a community hall somewhere in the middle of nowhere, with a 9pm or 10pm curfew to allow for staff finishing their shifts. This was an inclusive and accessible gig open to all in one of the busiest areas of Brighton city centre, finishing at midnight.
24hr party people
During the project partners meeting I picked up many great ideas and stories from the other Gig Buddies projects. My favourite by far is the 24 hour Fringe Marathon that Gig Buddies Scotland organised over the summer, where Gig Buddies spent 24 hours watching shows at the Edinburgh Fringe Festival. They met for breakfast on a Saturday morning at 8am, watched shows throughout the day and night, and finished at 5am – Gig Buddies came and went throughout the day and night, but every person who stayed until the end had also began the event at 8am.
Of course, a lot of planning went into the event. But, as Sam Maggs from Gig Buddies Scotland told us, an important part of this planning was to ensure that everyone attending had the freedom on the day to enjoy themselves and have complete control – not just being safe during the event, which tends to be the central concern with the risk-averse worriers among us.
Do it yourself
A few weeks after the No Bedtimes launch gig our Gig Buddies went to a gig put on by Cardiff People First, as part of our November social. The gig was at the Moon Club, on Womanby Street, right in the heart of Cardiff's music quarter, and a favourite of Gig Buddies and Cardiff People First.
Members of Cardiff People First had done everything themselves to put on the gig – from booking the venue and the band (awesome Cardiff band The Oh Peas!, who describe themselves as "D.I.Y sad-pop"), and promoting the night, to DJing during the gig and even pulling pints at the bar. The show was full of people from Gig Buddies and Cardiff People First, but also fans of The Oh Peas! and other music fans who had just walked in off the street.
During the gig it struck me how far we have come in Wales. We look to Stay Up Late and their work as leaders in positive and progressive change, influencing attitudes and campaigning for people with a learning disability to lead full and active lives. But here was a fully inclusive, accessible, and sold-out gig in a mainstream venue in the centre of Cardiff, finishing past 11pm (and followed by a reggae clubnight that ended at 2am), with a popular band who have played festivals across the UK – all organised by people with a learning disability.
Enabling a No Bedtimes culture
Zarah, Simon (who is an ambassador for Stay Up Late), Janice, Shan, Annaliese, Dawn, George, and everyone else from Cardiff People First involved in putting on this great night – and there's talk of it becoming a regular event – have shown why the No Bedtimes campaign is so crucial to people's lives. Cardiff People First have long provided a culture that puts choice and control at the centre of people's lives, whilst training and educating the learning disability sector about this.
A No Bedtimes culture within Cardiff People First helped to lead to their successful gig at the Moon Club – people with a learning disability creating a night of culture that was enjoyed by everyone. Imagine what No Bedtimes can do for you?
Kai Jones
Project Coordinator, Ffrindiau Gigiau / Gig Buddies