As Britain prepares its departure from the European Union at 11pm this Friday, 31 January, many disabled people in Wales are worried what the changes will mean for them. We have gathered together information, advice and resources to help people with a learning disability in Wales to understand what Brexit is, and where to get help and advice.
Many areas of our lives will be affected in some way due to Brexit, including:
Supply of medicines and medical devices
Travel and accessibility
Legal Rights
Employment of Personal Assistants from the EU
Settlement of disabled citizens from the EU and in the EU.
Here you can find resources and advice to help you with the issues that Brexit may cause. If you know of any other information useful to people with a learning disability please email Kai Jones, Communications Officer at Learning Disability Wales, and we will add it to this page.
Easy read FAQ about about how Brexit might affect disabled people in Wales
Our Easy Read Wales team produced the easy read version of this briefing, which provides answers to questions collected during an event held in 2019 to help disabled people and organisations understand what Brexit may mean for them. The event was organised by Disability Wales, Cardiff University, and the Wales Civil Society Forum on Brexit. Download the original FAQ report and the easy read version here.
Other easy read resources
The Civil Society Brexit Project in Scotland have produced a series of accessible guides in consultation with People First (Scotland): Some of the information in the guides is about Scotland, but the guides will be useful to people in Wales:
Human Rights Consortium Scotland produced easy read Brexit guides in 2017 on disabled people's rights in Scotland – much of the information will be relevant to people here in Wales.
The EasyRead.info website have made an easy read webpage explaining what Brexit is, and why Britain is leaving the EU.
New Disability Wales project to support disabled people after Brexit
Disability Wales have received funding from Welsh Government to support disabled people and prepare them for the potential impacts which the UK's exit from the EU may have on their day-to-day lives.
The project will:
Provide engagement opportunities tailored around disabled people's needs
Produce information and signposting in accessible formats
Host discussions about the possible longer-term impact on medications, services and benefits.
The £72,000 project will run in partnership with the Brexit Civil Society Forum and will also see the establishment of a virtual disability policy network.
Announcing the funding, Deputy Minister and Chief Whip Jane Hutt, who is responsible for equalities, said: "An absolute key feature of this project is that it will be informed by, and engage directly with, disabled people to ensure the support and resources are appropriately designed, such as being delivered in Easy Read and British Sign Language."
Disability Wales regional events
As part of their new project to support disabled people after Brexit Disability Wales are holding two regional events in February for disabled people, disabled people's organisations, and other supporters to:
find out more about arrangements being put in place by the UK and Welsh Governments to ensure a smooth transition
have your say on strengthening equality and human rights
help Disability Wales to develop accessible information about Brexit and disabled people.
The events are taking place on:
Brexit and Disabled People – National Summit
In partnership with the Wales Governance Centre's and WCVA's Brexit Forum project, and with financial support from the EU Transition Fund, Disability Wales will be holding a National Summit in Cardiff on 13 February for an invited audience of leaders from Disabled People's Organisations and National Disability Organisations.
The Summit will include Expert Briefings, a Cross Party Panel, Workshops and Q&A sessions. Attendance is by invite only – for more information please contact Disability Wales: 02920 887325, email Info@disabilitywales.org.
Other resources and advice about Brexit for disabled people
Welsh Government, Disability Wales, WCVA and the organisations represented on the Welsh Government's Disability Equality Forum, are working together to ensure disabled people have access to specialised information including advice and support with changes that affect them. There is information on the Welsh Government website, and further links to information about how Brexit may affect disabled people: Access to assistive technologies; Blue Badge portability; Health; Independent living; and the wider impact of Brexit.
Disability Wales have also contributed and signed up to the Disability Rights UK Brexit Manifesto. The manifesto says what the disability rights sector in the UK should be seeking from a post-EU UK.
How Brexit will affect disabled people's lives and rights – article by Charles Whitmore, Research Associate at Cardiff University School of Law & Politics, and Coordinator for Brexit Forum Wales.
Public Health Wales has carried out a Health Impact Assessment to better understand the potential implications of Brexit for future health and well-being in Wales. It examines the potential effects of Brexit on the short, medium and long-term health of people living in Wales.
Disability Rights UK have compiled a very informative webpage with links to useful information about Brexit.
BBC News has produced a useful guide to everything you need to know about the UK leaving the EU, including an excellent guide to Brexit jargon.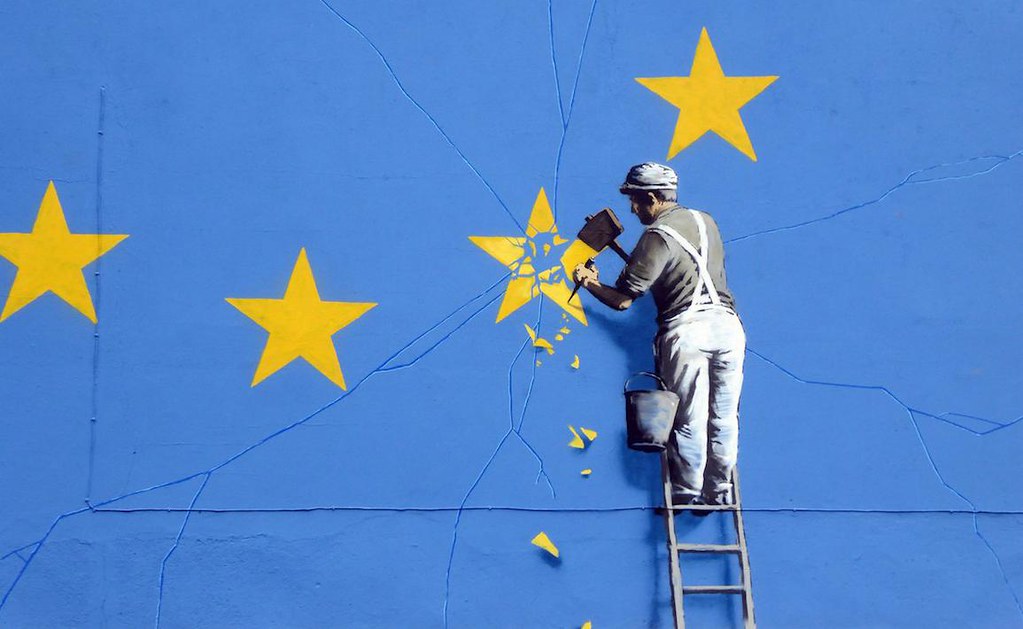 Photo shows a Banksy mural showing a star being chiselled from the EU flag.