The Welsh Government has pledged £1.4 million to support its first ever loneliness and social isolation strategy, setting out a vision where "people are supported at those times in their lives when they are most vulnerable to loneliness and social isolation", and "are able to say "I'm lonely" without stigma or shame".
---
Find the easy read version of Welsh Government's 'Connected Communities' loneliness and social isolation strategy here – produced by Learning Disability Wales' easy read service.
---
Loneliness and social isolation are increasingly dangerous  effects of modern life. There is growing recognition that loss of social contact and loneliness is hugely damaging to our health and well-being and has far-reaching implications, including reduced mortality, sleep problems, high blood pressure, poor quality of life, increased risk of heart attack and stroke, depression and suicide.
People with a learning disability are seven times as likely as their non-disabled peers to be lonely, according to recent research from Mencap. In a 2017 survey by Sense, over half of disabled people reported feeling lonely, rising to over three quarters (77%) for those aged 18-34.
'Connected Communities' states that "the economic, health and social consequences of loneliness and social isolation are significant, particularly in respect of their impacts on public services. For example, we know that people who are lonely or isolated are more likely to visit a GP or an A&E Department and more likely to go into residential care."
Research commissioned by the Eden Project estimates that disconnected communities could be costing Wales a potential welfare improvement of  £2.6bn a year (with the cost to the UK economy estimated at £32 billion every year). This is thought to include a £427m demand on health services, a £10m demand on policing and a £8m cost to employers due to stress and low self-esteem.
To tackle these issues the strategy sets out the Welsh Government's aims and "calls upon all of us [including Welsh Government, local authorities, health and public services, the Third Sector, and individuals] to work together to play a part in building a more connected and inclusive society."
Priorities
The strategy will be supported by a £1.4 million Loneliness and Social Isolation Fund over three years, which will support community based organisations to deliver and test out, or scale up, innovative approaches to tackling loneliness and social isolation.
The Welsh Government will also establish a cross-government loneliness and social isolation advisory group to oversee, support, and progress the implementation of the strategy.
The strategy is the first step in Welsh Government's work to change how people think about loneliness and social isolation, and sets out their vision for a connected Wales. The strategy has four priority areas:
Increasing opportunities for people to connect.
Improving community infrastructure that supports connected communities.
Cohesive and supportive communities.
Build awareness and promote positive attitudes.
Each priority is supported by a number of aims and actions, including:
Working with Care Inspectorate Wales to consider how loneliness and social isolation can be incorporated into Inspection Frameworks.
The establishment of a single integrated outcomes framework for health and social care, that will define regional and local performance measures that demonstrate how services are supporting people to reduce feelings of loneliness and social isolation.
Promoting and enabling volunteering, and funding a national programme of Time Credits.
Further developing the Fusion programme, which provides opportunities for people in deprived communities to take part in culture and heritage opportunities.
Supporting the development of social prescribing schemes.
Working with local authorities and partners to improve access to good quality, timely housing adaptations.
Development of a new set of educational resources about social media, loneliness and social isolation, to help people to participate and remain
safe online.
Building a national conversation to promote mental well-being, reduce stigma, and raise awareness  through a new, long-term programme from Public Health Wales, Hapus.
Focus on disability, learning disability and autism
There are no specific actions related to how the strategy will improve the lives of disabled people, people with a learning disability or autistic people. Instead the strategy promises to "ensure the ongoing work on tackling loneliness and social isolation links to our learning disability 'Improving Lives' programme and to the Autism Strategic Action Plan, Integrated Autism Service and the forthcoming Code of Practice on the delivery of autism services," as well as the Welsh Government's framework, 'Action on Disability: the Right to Independent Living' (pages 24-25).
Learning Disability Wales welcomes the new strategy and Welsh Government's focus on tackling an issue that significantly impacts the health and well-being of people with a learning disability. Commenting on the strategy's publication, Zoe Richards, Chief Executive of Learning Disability Wales, said:
"For people with a learning disability loneliness and isolation can start at a very young age and become an unbreakable pattern within their lives. The stigma that is faced by people with a learning disability forces isolation. Opportunities to grow friendships are limited. Only 6% of people with a learning disability are in employment, only 3% of people with a learning disability live as part of a couple, and a third of people with a learning disability spend less than an hour outside of their home on a Saturday.
"We need to ensure that we are targeting societal perception of people with a learning disability in order to support change. We are currently exploring these themes through our Gig Buddies project in Wales. Creating friendships through shared interests and a love for music, art and culture is creating an opportunity for us to best understand the societal perception of people with a learning disability and how others become implicit in their journey to fulfilled lives."
Find out more about our Gig Buddies work here.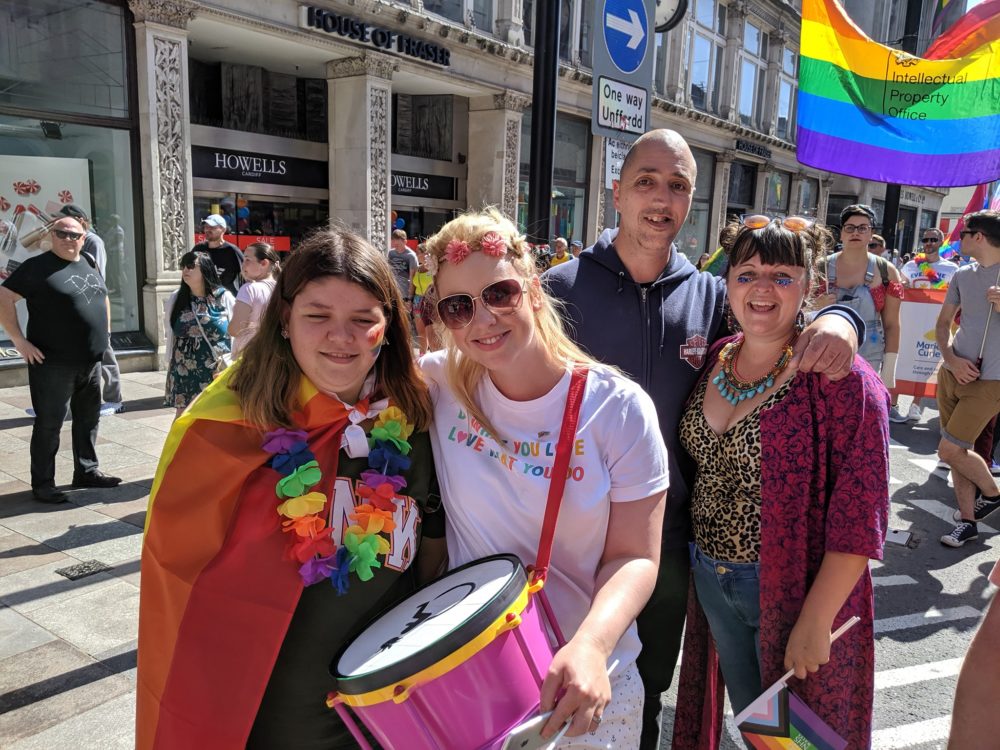 Gig Buddies and volunteers from Learning Disability Wales' Gig Buddies project take part in last year's Pride Cymru parade.