A damning report from the Disability Equality Forum has found that existing inequalities led to disabled people being 'locked out' from society during the pandemic, with their rights further eroded.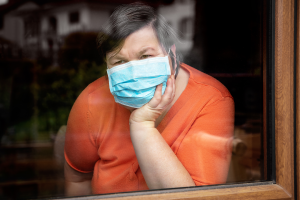 Learning Disability Wales welcomes the publication of the report 'Locked Out: Liberating disabled people's lives and rights in Wales beyond COVID-19' on how the pandemic has highlighted inequalities in society and further eroded the rights of disabled people in Wales. The report was the result of initial discussions that took place in 2020 at the Disability Equality Forum, attended by several disability organisations from across Wales (including Learning Disability Wales) and chaired by Jane Hutt MS who was Deputy Minister and Chief Whip at that time (now Minister for Social Justice).
Welsh Government published the report and its response on 2 July 2021. We welcome their commitment to set up a Ministerial Task Force to address the issues raised in the report and implement the recommendations. The Task Force will be co-chaired by disabled people to ensure that the voices and experiences of disabled people in Wales are heard and understood.
Read an easy read version of 'Locked Out: Liberating disabled people's lives and rights in Wales beyond COVID-19' here (PDF 1mb).
Background
Concerns were raised within the Disability Equality Forum about the disproportionate impact that the pandemic was having on the lives of disabled people and this led Welsh Government to commission the Forum to examine the situation in more detail. A steering group of disabled people representing disabled people's organisations (DPOs) and charities was established to carry out an enquiry. The steering group was chaired by Rhian Davies, Chief Executive of Disability Wales, with Welsh Government providing administrative support and supplementary research expertise and guidance.
The group's enquiry took place over a 6-month period. A wide range of available evidence, both statistical and anecdotal, was examined with a view to understanding and learning from disabled people's experiences. The report was written by Professor Debbie Foster of Cardiff Business School and is structured around 5 main chapters with specific recommendations under each heading:
The social versus the medical model of disability
Human rights
Health and well-being
Socio economic disadvantage (including housing and employment)
Exclusion, accessibility and citizenship.
Social model versus medical model
One of the key concerns raised by disabled people in the report is the feeling that the social model of disability had largely been discarded during the pandemic, with policy makers, politicians and professionals reverting to the medical model. This was highlighted by the application of 'Do not attempt CPR' (DNACPR) notices to whole groups of people during the early stages of the pandemic, including people with learning disabilities and older people, demonstrating a medicalised approach and suggesting a hierarchy of "worth" for those trying to access healthcare.
This was something that we, as part of the Wales Disability Reference Group, raised with Welsh Government at the start of the pandemic, which led to the distribution of a letter by the Chief Medical Officer and Chief Nursing Officer to relevant leads in the NHS stating that "Age, disability or long term condition alone should never be a sole reason for issuing a DNACPR order against an individual's wishes".
Disabled people were often referred to as 'vulnerable' by the Government and mainstream media during the pandemic. Many felt this to be demeaning and undermined the long fought-for achievements of the disability rights movement. Many people with a learning disability living in supported living and other residential settings felt very excluded from decision making. The report states that some measures introduced to prevent the spread of Covid-19 thoughtlessly added to barriers disabled people encounter in their day to day lives, resulting in exclusion from public spaces, social and healthcare services, and access to basic medicines and food.
In order to reverse this trend, the report calls on Welsh Government to re-affirm its 2002 commitment to the social model of disability, deliver a national public campaign to improve the public understanding of ableism in Welsh society, and integrate the history of the disability rights movement into the Curriculum for Wales.
Human rights
The enquiry revealed that there was wide-spread concern among disabled people's organisations about the suspension of key provisions in the Social Services and Well-being (Wales) Act 2014 (unless services were needed to "protect an adult from abuse, neglect, or at risk of abuse or neglect") as a result of the Coronavirus Act (Commencement No 1) (Wales) Regulations 2020. Unlike the suspension of the Care Act (2014) duties in England, there was no express requirement to avoid breaches of the European Convention on Human Rights in Wales.
It was felt that the key principles of 'Voice, Choice and Control', which are considered central to the Social Services and Wellbeing Wales Act (SSWWA) 2014 (and other key Welsh legislation), were severely eroded during the pandemic and that these need to be re-established immediately. The report is clear that urgent measures need to be taken to ensure that the human rights of disabled people cannot be eroded in this way again by "enshrining fundamental rights and safeguards (contained in the United Nations Convention of the Rights of Disabled People) into future Welsh law."
Evidence provided by Learning Disability Wales submitted to South Wales Police in July 2020 highlighted concerns that police officers were not adequately trained to respond to disabled people when enforcing lockdown rules. An enquiry by the Equality and Human Rights Commission into the criminal justice system noted that people with a learning disability found it difficult to participate fully in proceedings using courtroom video and audio. The report therefore recommends that guidance on video and telephone hearings across all courts and tribunals in Wales refers to the need to make reasonable adjustments for disabled people.
Other recommendations included the appointment of a Minister for Disabled People in the short term to demonstrate Welsh Government's commitment to disabled people's human rights. In the longer term, the report calls for a dedicated Disabled People's Commissioner in Wales.
Shielding
The confusion and lack of timely information around shielding is highlighted by the report, including how this had a significant impact on disabled people's social needs ("Early official medical categorisation of some people as 'shielding', not only caused confusion, but excluded some disabled people and those supporting them from accessing life-saving vital goods and services").
The report calls on "Welsh Government, Local Authorities, Public Health Wales and Care service providers to urgently ensure they make it clear to people with learning disabilities who are shielding and in institutional settings, what exactly their rights are".
The report also questions the central role attributed to GPs in defining who was included or excluded from the official 'shielding' list, which determined access or priority to essential services. "This medical model excluded groups of disabled people with 'stable' or 'established' impairments and only later was any consideration given to the extent to which people were socially excluded and, therefore, also 'at risk'."
The report therefore asks Welsh Government to review the role of GP's and other medical professionals in the identification and categorisation of individuals at 'high risk' or 'shielding' groups, using the social model, and that disabled people's organisations are involved in this process.
Health and wellbeing
Data published in September 2020 by the Office for National Statistics (ONS) shows that in the period March-July 2020, 68% (almost 7 in 10) of Covid-related deaths in Wales were disabled people. There has also been significant data to suggest that people with a learning disability were disproportionally more likely to die from Covid-19 (All Wales People First, 2020). However, evidence suggests that this death rate was not simply the inevitable consequence of pre-existing health conditions or impairments, as socio-economic factors and existing inequalities within society also contributed to many deaths.
One of the report's recommendations is the introduction of a mandatory training requirement within the Welsh NHS, co-developed and co-delivered with Welsh DPOs, to address some of the discrimination experienced by disabled people during the pandemic. It also recommends increased funding for advocacy services for disabled people in Wales when dealing with health and public service providers.
Socio economic disadvantage
Evidence produced for the report on the impact of Covid-19 on disabled people in Wales demonstrated a clear link between outcomes and poverty, social deprivation, state benefits, housing and experiences of work and employment. All have contributed to the disadvantages disabled people have experienced during the pandemic.
Disabled people in Wales are more likely to experience relative income poverty and live in more economically deprived areas than non-disabled people. Nationally, disabled people have disproportionately fallen behind with household bills during the pandemic due to their position in the labour market and the increased costs associated with being disabled.
Data analysis found that a higher proportion of employed disabled people work in industries that were told to close from 23 March 2020, and for the period that the initial Covid-19 restrictions were in place (16.6% compared to 14.7% of non-disabled employees). The report recommends that Welsh Government should ensure that the launch of Business Wales's new Disabled People's Employment Champions coincides with the development of a new employment strategy for disabled people.
Response from Learning Disability Wales
We endorse this recommendation and would also like Welsh Government to establish a National Job Coaching Service, National Supported Internship Programme and a public sector Learning Disability and Autism Employment Strategy as recommended by the Engage to Change project that we lead on.
Another important recommendation within the report is the ring-fencing of part of the local authority pandemic grant to ensure children with additional needs who need to stay at home receive appropriate and essential equipment, training materials and social care.
Exclusion, accessibility and citizenship
As a group, disabled people have experienced significant additional social exclusion during the pandemic including inaccessible public spaces, services, practices, public ignorance, poor communication and policy decisions. A fundamental failure to consider basic requirements of different impairment groups and to consult adequately lies at the heart of this. The result has been a loss of independence and a loss of citizenship. The Welsh Government is asked to address this as a priority.
The Government message to 'stay at home' exposed disabled women and girls, who before the pandemic were already identified as a group experiencing disproportionate levels of sexual and domestic violence, to further risk because of significant barriers to accessing support (EVAWC, 2020).
Access to community activities for people with a learning disability was significantly reduced or removed entirely during the pandemic, resulting in many being isolated and finding it hard to communicate any difficulties they were experiencing through the limited mechanisms available.
Disabled people reported feeling either more or less socially excluded during the pandemic, depending on a number of factors including their impairment, the technologies available, the quality of interactions and the attitudes of other users. However, technology does not replace direct human contact. Technology is not available and accessible to everyone and digital exclusion has been reported by many disabled people, including BSL users and some people with a learning disability.
The report recommends that Digital Communities Wales, in partnership with DPOs, urgently develops an education and skills programme specifically tailored to disabled people to address digital exclusion and poverty.
On the other hand, some groups of disabled people have found new opportunities for working, socialising, connectivity and learning through the increased use of digital technology during the pandemic. For example, Karen Warner, Innovation Manager at Learning Disability Wales, highlighted how opportunities for people with a learning disability to learn new skills have emerged, overcoming previous negative assumptions that this would be beyond their capabilities.
The report therefore calls for a review into the level and type of publicly funded services available to people with learning disabilities. In the past, day services have been provided but since the pandemic evidence from All Wales People First suggests there has been a growth in confidence and technological skills, increasing the importance of virtual communities. Some people are participating in online training and are gaining confidence in leading and delivering this training. Resources are required to reorientate existing services to develop skills further.
The report also highlighted difficulties accessing public health messages and changes to pandemic rules and guidance caused particular confusion to people with a learning disability and people with a mental health issue.
Reductions in public transport and relaxed duties for local authorities to provide free transport for disabled children also had a significant impact on disabled people in Wales. The report calls for the Welsh Government to urgently address these issues.
Another recommendation within the report is for Welsh Government to work closely with DPOs, third sector and grassroots community organisations to tackle isolation and loneliness because they have knowledge about disabled people and local communities.
Response from Learning Disability Wales
We welcome this suggestion and will be contacting Welsh Government to discuss how our Connections Cymru network and Gig Buddies project can help with these issues for people with a learning disability.
Accessibility of public services
In all 5 sections of the report, evidence suggests that disabled people feel their lives are less valued in Welsh society. This is particularly reflected in their experiences of discrimination and exclusion when trying to access public services during the pandemic.
Examples are provided of disabled people being unable to access public transport, maternity services, GP surgeries, emergency telephone helplines and vital pandemic-related public information, to name a few. Many disabled people reported confusion, helplessness, abandonment, isolation, fear and frustration. The root cause of much of this exclusion, however, has been simple thoughtlessness, ultimately robbing disabled people of access to public spaces and a sense of basic citizenship.
We look forward to the establishment of the Ministerial Task Force and will be closely monitoring Welsh Government's progress on the issues raised in the report as well as the implementation of the report's recommendations.