We have had a busy summer at Learning Disability Wales with five new members of staff joining our team. Over the past few weeks we have been introducing Rebecca, Lyndsey, Grace and Angela. Last, but not least, we welcome our new administrator, Rhobat Bryn Jones.
"I have been working at Learning Disability Wales for just over a month now and I couldn't have wished for a friendlier group of people to work with. What is also striking is the commitment and dedication of the team to people with a learning disability, which lies at the heart of the organisation. A member of my family is on the autistic spectrum, which has meant having to learn at first-hand how someone experiences the world around them and how they seek to cope with it. Working at Learning Disability Wales has given me a new perspective on this and I hope to learn more as the job progresses.
"As one of the administrators in the organisation, I see my role as helping the other members of the team to free up their time to provide the service to those who need their support. People sometimes say that paperwork can get in the way of their doing their job; I hope that my contribution will have the opposite effect.
"Outside of work, I am married to Catherine and have two lovely step-daughters. I am a fluent Welsh speaker having worked as a tutor at Cardiff University for 22 years. My main interest is in Welsh history, in particular Welsh railway history, and I have recently published a book about the Barry Railway."
Improving how we engage with the learning disability sector in Wales
You can read about the other members of staff who have recently joined our team here:
Lyndsey Richards – Projects Manager
Rebecca Chan – Accessible Information Officer
Angela Kenvyn – Engage to Change Project Manager
Grace Krause – Policy Officer
Zoe Richards, our Acting Chief Executive, has written about how our newly expanded team will have a significant impact on our work, and how we engage with the learning disability sector in Wales.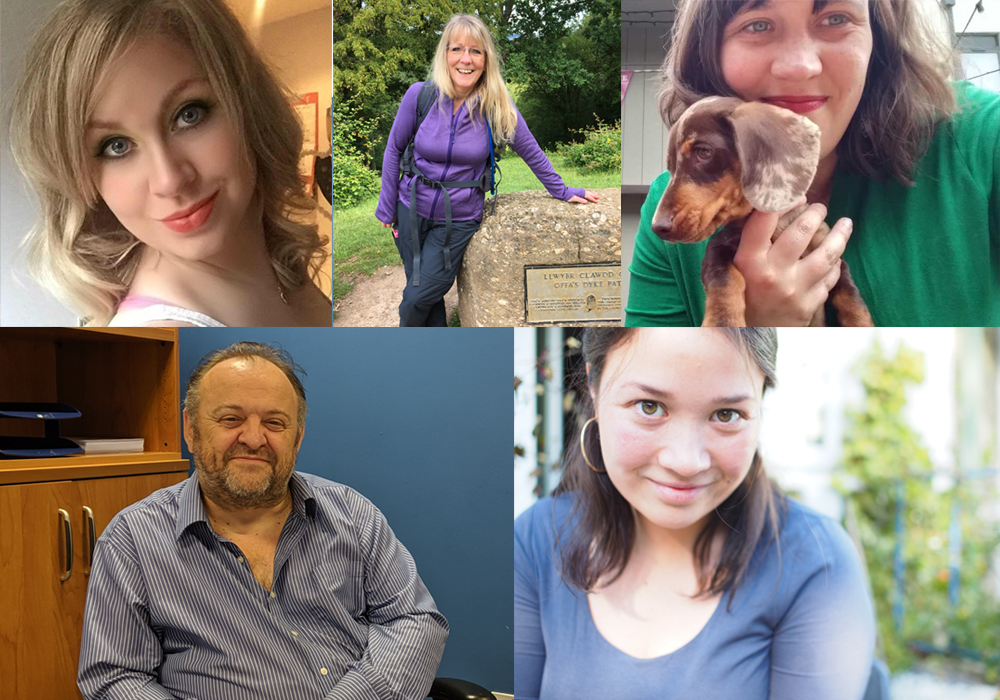 Our five new members of staff. (Clockwise from top left) Lyndsey, Angela, Grace, Rebecca and Rhobat