We recently introduced Lyndsey Richards as one of five new members of staff. We are pleased to introduce another new member of staff, Angela Kenvyn, who will be managing the national Engage to Change employment project.
Angela will be co-ordinating the Engage to Change partnership and managing delivery of the project across Wales. Angela has a youth and community work background and managed community based services and projects for over 12 years.
Angela said: "I'm really pleased to join the team at Learning Disability Wales. After retiring four years ago, it's exciting to be working again and feels as if I'm back where I belong.
"The majority of the services and projects I managed previously were for children and young people with a learning disability/and or autism, their families/carers.  I feel very strongly that all children and young people should have a voice, be given the same opportunities and life chances regardless of their individual circumstances. I understand that some people face multiple barriers but believe barriers can be overcome through providing information, advice and support.
"I will be responsible for Engage to Change which is delivered in partnership by lead partner Learning Disability Wales, supported employment agencies ELITE Supported Employment and Agoriad Cyf, self-advocacy organisation All Wales People First, research partner Cardiff University, and in collaboration with internship programme Engage to Change DFN Project SEARCH.
"Engage to Change works closely with the young person, their parents/carers and employers, to overcome barriers to employment, develop skills,  provide unpaid work experience, paid supported employment, volunteering opportunities and access to internships. I'm looking forward to seeing the young people progress and achieve.
"I'm also keen to support my colleagues and be involved in other aspects of work, for example, influencing the development of policy, in areas such as youth employment, skills and education.
"Away from work I am married with two children and three grandchildren. I love the great outdoors, in particular spending time with my horses and undertaking challenging walks with friends."
Improving how we engage with the learning disability sector in Wales
You can read about the other members of staff who have recently joined our team here:
Lyndsey Richards – Projects Manager
Rebecca Chan – Accessible Information Officer
Grace Krause – Policy Officer
Rhobat Bryn Jones – Administrator
Zoe Richards, our Acting Chief Executive, has written about how our newly expanded team will have a significant impact on our work, and how we engage with the learning disability sector in Wales.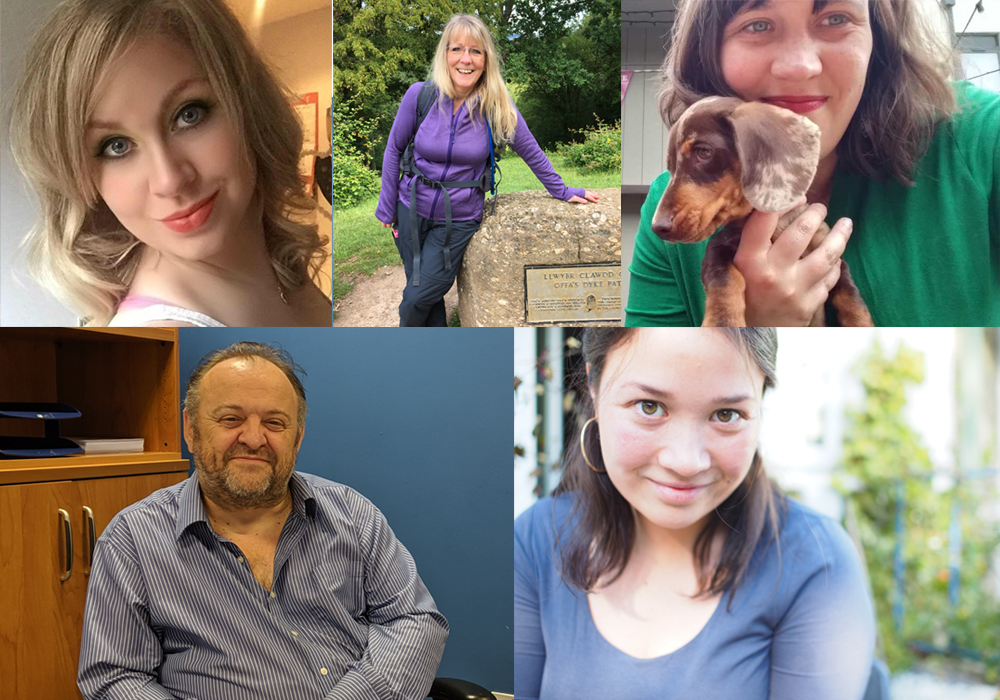 Our five new members of staff. (Clockwise from top left) Lyndsey, Angela, Grace, Rebecca and Rhobat